Hello again iiwiiers

Before I forget, you might have seen this before, but John Kricfalusi (Ren & Stimpy) has designed some great toys of the US presidential candidates.

So, Morgan Freeman is out of hospital. He sure is a tough guy, this is something I didn't get around to covering: I remember reading that he'd been in a car crash and he was critically ill, then within hours he was in good spirits and making a good recovery. Maybe that made sense, maybe 'critically ill' doesn't mean what I think it does, but it seemed strange to me. Maybe he's got superpowers, like in that film where he has superpowers, I don't know which. He has done one, hasn't he? At least one? I think so. I specifically think he has, not just 'surely he must have done'. Hmm, actually it said here he broke his arm and needed surgery - is that 'critically ill'? Or has there been a mistake somewhere?

I was a good boy on ebay today, I let a 1 track promo CD for Glasvegas' Daddy's Gone remake go for six pounds at the last minute. Looks like my theory about promo prices was right, the last two copied of the Geraldine promo went for £2 and £1.20! So I'll wait awhile. Thinking of starting a Glasvegas fansite/message board thing, as no-one else has yet, found a host that looks really good, the yearly rate works out at £4.99 a month, but that's money I could be buying Glasvegas stuff with. Hmmm... but that's with unlimited everything and you do get your domain name for life included (even if you leave to go somewhere else after a year they keep renewing it for you free) and they're completely wind-powered. Hmm, decisions...

China has achieve the prestigious title of most polluted Olympics ever! And they've had some real competition in the past. International Olympics Committee chairman Jacques Rogge said well done to them for their efforts to cut it down and that there was no risk to the athletes. Hmm, what I heard was that they're pretty sure they won't have to move any of the short events to somehere safer...

That's all from me for now

See you around

Robert De Niro Lookalike Of The Day: Mikheil Saakashvili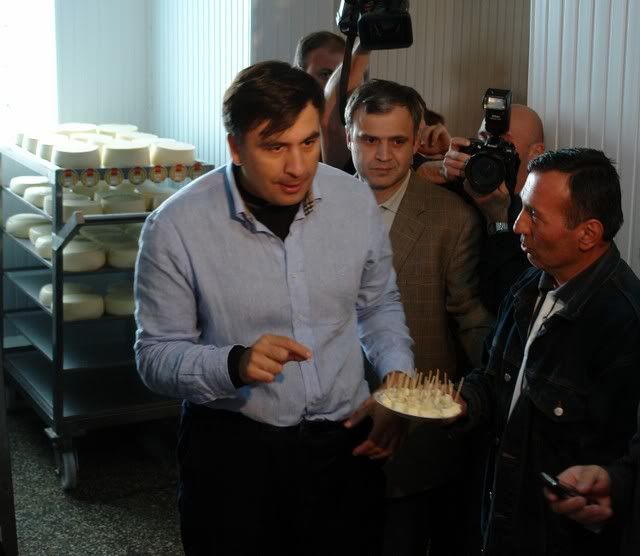 opening of a cheese processing plant built with US aid, in case you were wondering.