Hello again

Well, last night some friends came around and I had a little drinkie and I went to bed without blogging and I'm not even going to apologise. But I am going to do something to make up for it - I am starting this while out and I am going to transcribe the silly Coffee Express thing I may have promised you but which I haven't got around to yet. It's all in lower case, every letter, and it's in a sort of Cooper style typeface.


why are we at coffee express so passionate about our coffee?

because we've lovingly selected our blend from the world's finest coffee beans.

because we roast our coffee beans in a special way which makes the taste and aroma irresistable.


I think I mentioned before that the whole thing is the wrong way around - the two points they cite hardly explain their passion, they're more like indicators of them. But now I am intrigued by the special way they roast them. Presumably it is different to how their competitors roast their coffee beans, or it wouldn't be special. So presumably it is unorthodox, and their competitors don't think it's a good idea to roast their coffee beans in this way. Perhaps it's because it makes the taste and aroma irresistable - perhaps their competitors thing that's unethical. But it seems a bit of a waste of money to select their blend from the world's finest coffee beans if they're going to roast them in a special way that makes the taste and aroma irresistable. You might as well use the world's worst coffee beans if you're going to do that. I'm also surprised that their coffee is reasonably priced if they use the world's finest coffee beans - their coffee is possibly even below average in price, how can that be possible using the world's finest coffee beans? And who deems them to be the world's finest coffee beans? Who has that authority? I guess we'll never know.

Scary Clown Of The Day: Bozo the clown, Bell Brand potato chips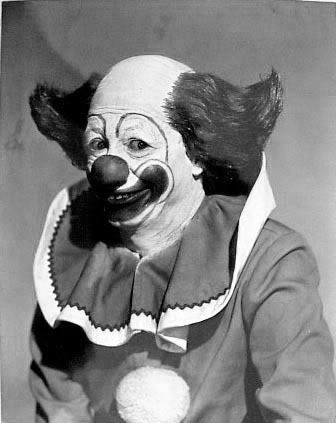 powered by performancing firefox