Hello again

I've just been reading about Floyd Landis, a cyclist in a doping scandal. He's being stripped of the 2006 Tour de France title. He was raised a Mennonite. The Mennonites, as you know, spilt from the Amish in 1693. Whereas, of course, they split from the Ammonites about 400 million years ago. But what does it all mean? Pliny the Elder used to take the piss out of the Ammonites, and call their shells 'the horn of Ammon' but I can't find any reference to any Ammonite macho posturing that would have warranted this. But records from the olden times are patchy. Ammon means 'the hidden one' - perhaps they were hiding from Pliny the Elder. His real name was Gaius Plinius, so perhaps all the other elders used to call him Gaius Boyus or something and laugh and he was always trying to prove himself by acting tough. He said "true glory consists of doing what deserves to be read, and writing what deserves to be written" - I wonder if THE WHISKY WORKS qualifies on those criteria - probably not, I fear. So should I have reported it? Perhaps he was talking crap, or perhaps it doesn't matter as I should not limit what I cover to the glorious. It would be something of a volte face, in fact would I not. In it is what it is I mainly focus on that with little or no glory, as it should be - for glory there are plenty of biographies of silly achievers that did remarkable feats with showing remarkable velour and true grits, the shops and libraries are full of them. Perhaps true glory is attending to those thing which might otherwise go unrecorded, simply because they were unfortunate to be not worth mentioning. Blimey, it's great to be as great as me.

See you around

Groovy Future Of The Day: Artist's impression of new station buildings using the 'Systems For Change" range of standard components, 1973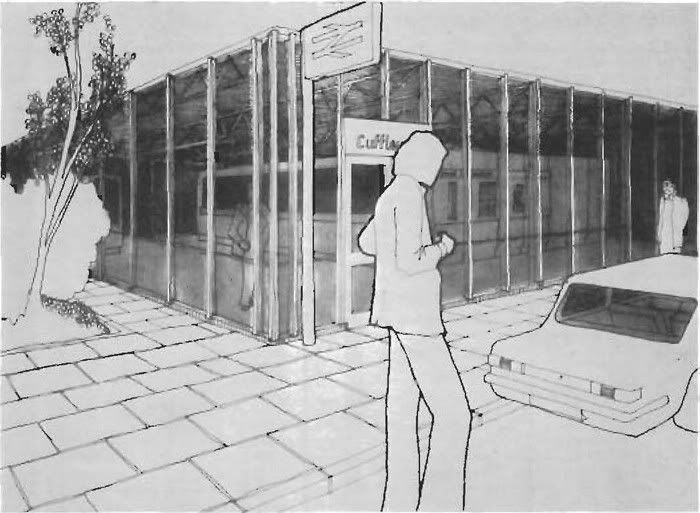 how can one guy be so groovy? He looks like he's jiving and fingerpoppin along the street - you whatch, he's going to do a twirl in circumnavigating that parked unconvincing car.